Posted on Wednesday, May 26, 2021 10:59 AM
OUTDOOR AMENITIES
REOPENING MAY 2021
Under new Provincial guidance, outdoor recreational amenities will reopen, with restrictions in place, effective Saturday, May 22, 2021 at 12:01 a.m.
Amenities which may re-open include: sports fields, basketball courts, picnic tables and areas, park shelters, and tennis courts.
The Municipal Marina will also reopen Saturday, and recreational boating is permitted, however only members of a household can gather on a boat.
All visitors must continue to comply...
Posted on Wednesday, May 26, 2021 10:27 AM

Competition 2021-6 Mechanic
The Municipality of Wawa requires a Mechanic within the Infrastructure Services Department. Reporting directly to the Director Infrastructure Services, the Mechanic repairs and maintains all municipal vehicles and equipment in good operating condition. All current Ministry of Transportation regulations shall be followed in the repair and maintenance. The safety of the public and municipal operators is a priority condition of the job.
The successful...
Posted on Thursday, May 20, 2021 03:38 PM

Province Safely Reopening Outdoor Recreational Amenities Prior to End of Stay-at-Home Order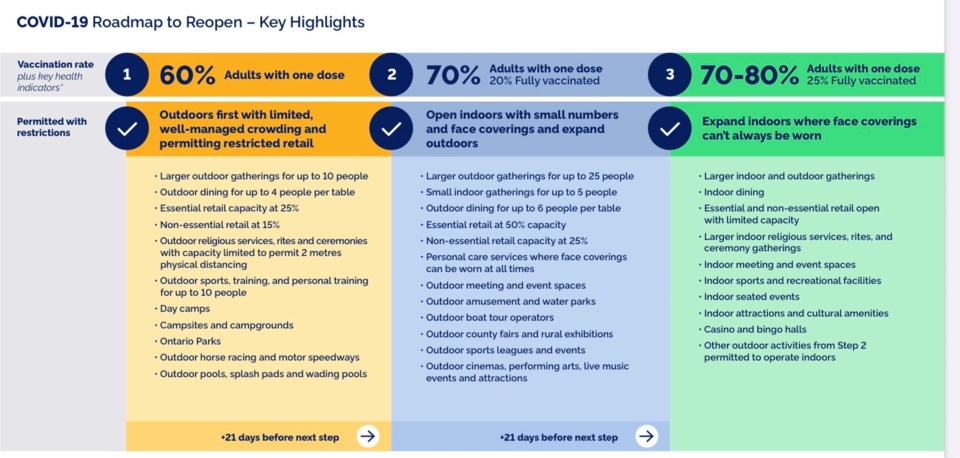 The Ontario government, in consultation with the Chief Medical Officer of Health, has released its Roadmap to Reopen, a three-step plan to safely and cautiously reopen the province and gradually lift public health measures based on the provincewide vaccination rate and improvements in key public health and health care indicators. In response to recent improvements to these indicators, Ontario will allow...
Posted on Thursday, May 20, 2021 01:39 PM

Investment will support safe and effective training for workers and apprentices
May 20, 2021
The Ontario government is investing $5.3 million to support new and enhanced state-of-the-art training to upskill 500 electrical workers, giving them a competitive edge and boosting homegrown talent. This initiative, offered in partnership with electrical contractor Spark Power, will provide free training for those individuals and upgrade their existing online, on-the-job and in-classroom education programming....
Posted on Wednesday, May 19, 2021 04:05 PM
Harry McCluskie Municipal Marina Slips
Marina Slips and Boat Launch passes are now available and can be purchased through the Community Services Department!
If you are a seasonal slip renter and would like to reserve your slip from the previous year, we will hold your slip until June 1, 2021.
The marina slip rental form can be downloaded here. All you have to do is fill out the Marina Slip Application form and email it to us, or you can always call 705-856-2244 ext....
Big Lakes, Big Memories
Welcome to The Municipality of Wawa, One of Ontario's Premier Four Seasons Destinations.