The Municipality of Wawa has a number of different modes of transportation, for in Wawa and out of town. Currently the Municipality has a transit service that offers curb to curb services, and a taxi service which offers services to Wawa and area. If you are looking for rides out of town for Medical appointments, shopping or visiting loved ones, Ontario Northland bus, connects the North.
Municipal Transit
Available to everyone in Wawa & Michipicoten River Village.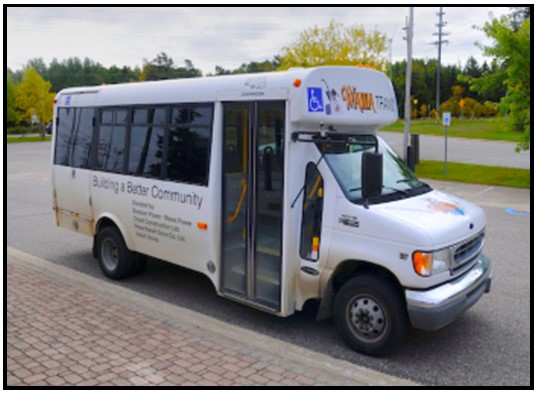 The Municipality of Wawa offers a transit system to the residents of the community, which consists of a specialized curb-to-curb transit service. The transit vehicle is a minibus capable of carrying up to 18 seated passengers and up to 2 passengers in wheelchairs.
Call 705-856-5802 to book a ride in advance.
Transit Passes can be purchased at the Municipal Office Monday to Friday from 8:30 a.m. - 4:30 pm.
Hours of Operation:
Monday to Friday – 8:45 a.m. to 2:45 p.m. Except statutory holidays.
Transit Service fees below do not include taxes
Wawa Transit Fee
Per Ride
*Passes
(11 rides)
Monthly Pass

Children (under 10 yrs of age)

$ 2

$ 20

$ 20

Seniors (55 and older) /Disabled

$ 3

$ 30

$ 30

Adults

$ 4

$ 40

$ 35

MRV (Mission) / Hwy <10 km

$ 7

$ 70

$ 70

MRV (Mission) / Hwy >10 km

$ 10

$ 100

$ 100

Students (require student card or letter from school)

$ 25
*Passes are punch cards which entitle you to eleven (11) rides.
Charter Fees – not including taxes
Charter Rate
Days
Fees

Monday to Friday

$40/hour

Saturday - Sunday

$40/hour

Statutory Holiday

$82/hour

Eleven (11) Rider Pass

Service Organizations

$40/each

Non-Profit Charter

approved by the Clerk or CAO
Wawa Taxi Services
U Wanna Cab, offering a 24 hour service to Wawa and area. Also offering shuttle services.
Call 705-992-5005.
Ontario Northland
Connecting the North via Bus, pick up and drop off at SPG Pump and Go station, at 95 Mission Road. For more information call 705-856-7949 or visit Ontario Northland.

Big Lakes, Big Memories
Welcome to The Municipality of Wawa, One of Ontario's Premier Four Seasons Destinations.