Refuse collection for the Municipality of Wawa and the Michipicoten River Village is currently contracted out to J. Provost Contracting.
Garbage collection
Household garbage and waste is collected Monday to Friday, at the curbside.
There is no curbside pickup on statutory holidays.
The Municipality of Wawa wishes to thank you for your co-operation regarding the following:
placing garbage in containers that cannot be opened by birds and animals
placing garbage at the curbside in the morning before 8 a.m. on the day of the pick-up.
having a six (6) unit limit for pickup and also a maximum of 50lbs per unit
J. Provost Contracting will be placing stickers on bags or containers that do not follow these rules.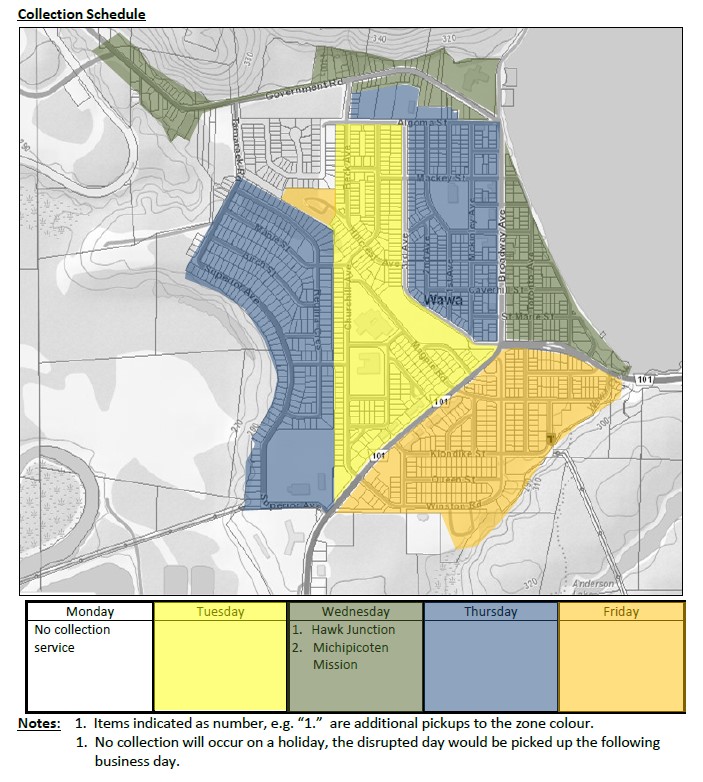 Items you cannot place in the garbage
automotive and garage products
household cleaning products
paints and paint related materials
pesticides and garden products
carcasses or parts of any animal, with the exception of kitchen waste
compressed gas cylinders and explosive or incendiary materials
Ontario-wide Municipal or Special Waste (MSHW) program will ensure that consumer products such as paint, solvents, used oil filters, single use batteries, antifreeze, propane tanks are managed in an environmentally appropriate manner once consumers no longer need or want them.
The Municipality of Wawa holds a Hazardous waste day every September.
Landfill
The landfill site is located on High falls road 3 km East of Highway 17 and is operated by the Municipality of Wawa. The hours of operation at the landfill site are Tuesday to Friday from 11 a.m. to 3 p.m. and Saturday from 8 a.m. to 4 p.m.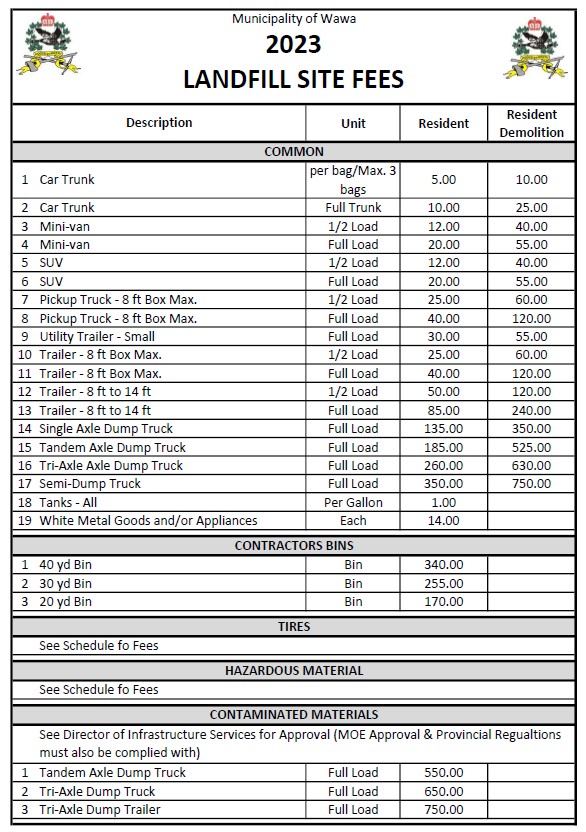 Big Lakes, Big Memories
Welcome to The Municipality of Wawa, One of Ontario's Premier Four Seasons Destinations.