Waterfalls, Parks & Beaches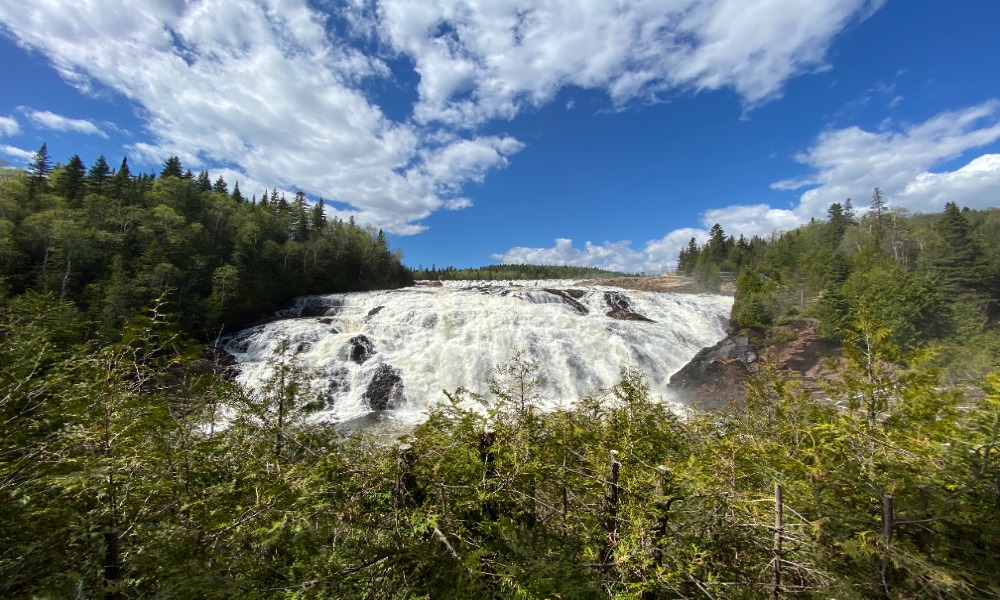 Living so close to Lake Superior, the Wawa area is blessed with an abundance of lakes and rivers feeding her. It comes as no surprise that we have some of the most scenic waterfalls around. Residents and visitors alike can hike, park, or rest at these beautiful areas, and listen to the thundering sounds of the water.
Sand River Falls
Located in Lake Superior Provincial Park, this is an easily accessible waterfall that is a must stop when passing through. Following the Pinguisibi Trail after visiting the lower falls, a moderate walk will bring you to the Upper Falls, where you can sit and enjoy the natural surroundings.
Photo Gallery: Sand River will appear here on the public site.
Scenic High Falls
A must see in Wawa. At 75 feet high, 125 feet wide, scenic high falls lives up to its name. Complete with a viewing platform, picnic shelter, RV parking and access to a 3 km section of the voyageur trail connecting Scenic High Falls with Silver Falls with scenic views of the river, completes this stop.

Photo Gallery: Scenic High Falls will appear here on the public site.
Silver Falls
Located just west of Michipicoten River Village, lies three sets of falls which round out the final descent of the Magpie River into the Michipicoten River. An easy 100 metre trail takes you to the edge of the falls. A great view of the Middle falls, is by taking the marked trail around the "lake", and then climb right up into the gorge. The Lower falls, located downstream of the bridge, is best viewed by following the trail that leads down into the Wawa Creek falls. A great spot for viewing both falls.
Photo Gallery: Silver Falls will appear here on the public site.
Wawa Creek Falls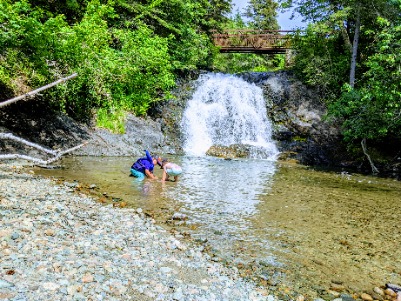 This little gem often goes overlooked by many. Located in the Michipicoten River Village, access to this picturesque falls is down a steep, well used trail off of Hardy avenue. A great place in the summer to swim or try fishing off shore to catch dinner. This little place is not to be missed, in Summer or Winter.
Parks and Beaches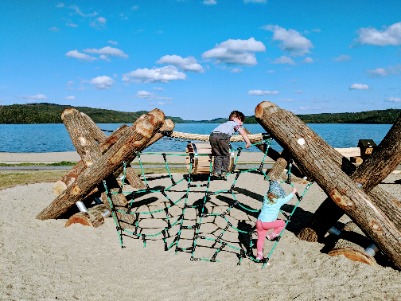 Nestled along the shore of Wawa Lake, our community enjoys some of the most pristine scenery in Canada. To experience our community to its fullest, check out our local beaches on a hot summer day, or take a scenic walk along our new waterfront boardwalk.
Some of the kid friendly parks include:
Centennial Park
Dr. Roses Park, and
Queens Park
Along with the playgrounds for kids, there are a number of areas to sit, have a picnic, or to take in some local history such as;
Heritage Park,
Lions Beach,
Sandy beach, and
Scenic High Falls
Tourist Information Centre,
Sandy Beach Eco-Interpretive Park
Sandy Beach Eco-Interpretive park is about a 10 minute drive from the Goose and affords one of the most spectacular views in the area. This park hosts a story telling pavilion where you will learn about the First Nations people who first settled the area, famous artists who spent time on the shores of Lake Superior and so much more. Take a walk along the boardwalk and then slip off your shoes and walk across this white sand beach and dip your toes into Lake Superior. All this just 10 minutes from that famous Goose!
Wawa Waterfront – Gateway to the Boreal Forest
Wawa is the beginning of the Boreal Forest – the largest continuous forest on the planet, stretching around the northern hemisphere from coast to coast. We celebrate this with the Gateway to the Boreal Forest Eco-Walk, where you will find a boardwalk leading you along an informative and scenic tour of our Waterfront. Parking is available at Lions' or Dr. Rose's Beach, and a natural play structure and picnic area can be found at Dr. Rose's Beach.
Of course, there's many more local gems to discover. For more secret spots, contact the Department of Community Services and Tourism for insider info!
Big Lakes, Big Memories
Welcome to The Municipality of Wawa, One of Ontario's Premier Four Seasons Destinations.