Indigenous Peoples and Abundant Land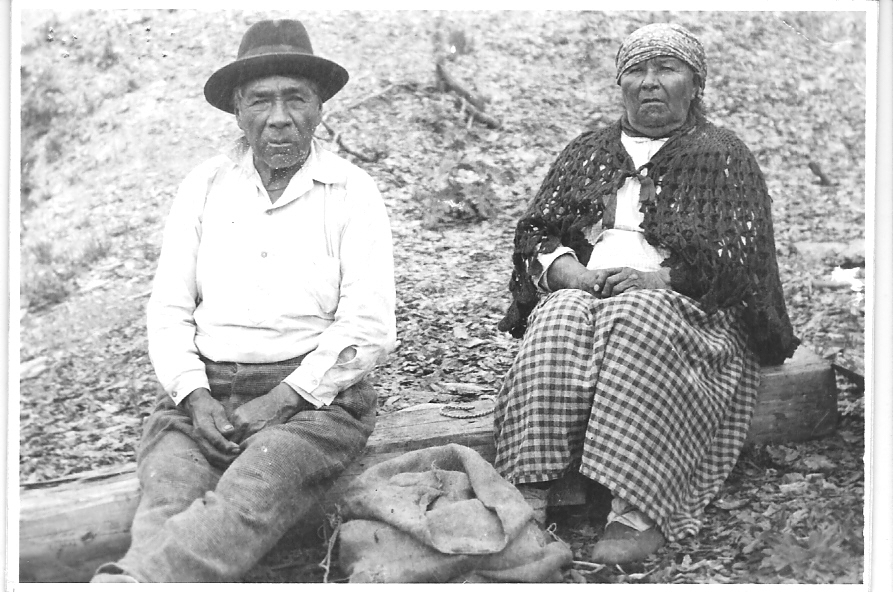 Louise and William Teddy discoverers of gold in Michipicoten 1898 (source: Town of Wawa Heritage Committee)
Wawa is located on the traditional territory of the ancestors of our Michipicoten First Nation.
Anishinaabe stories explain the bond between the people and all-natural elements of this vibrant land. These same stories share the ancient names of places and events which are intrinsically tied to the land. Names like "wawungonk" given to Wawa Lake which meant "place of clear water" or "place where the hills are covered with clear snow", and places like Nanabozho's Chair at Cape Gargantua where it is said Nanabozho sat and rested after jumping across Lake Superior.
Land Acknowledgment
Archaeologists tell us that the ancient Superior shoreline was home to nomadic families who ventured into the landscape after it was freshly released from the last ice age 10,000 years ago. Some of the earliest artifacts retrieved from the Wawa area date back to 1165 BC.
Michipicoten First Nation members have played instrumental roles in the evolution of European settlement and industry in the Wawa area. Members shared their local knowledge with explorers and fur traders looking for strategic water routes from Lake Superior to James Bay up the Michipicoten, Missinaibi and Moose Rivers. Indigenous trappers and women became the backbone of the European fur trade which dominated the North American landscape for nearly 300 years.
Local trapper and guide William Teddy and his wife Louise Towab were the first to discover gold on the shores of Wawa Lake and thus seal Wawa's 100-year legacy as a mining town from 1898 to 1998.
Chief Totomenai of Michipicoten First Nation signed the Robinson-Superior Treaty in 1850 thus establishing Gros Cap Indian Reserve #49. After numerous boundary discrepancies and land acquisitions for mining and transportation interests, Michipicoten was one of the first Bands in Canada to sign a land settlement agreement in 2003.
What's in a name
The Wawa landscape is steeped in rich Indigenous history. What's your first clue? All of the unique Ojibway names and labels found everywhere. Here are some of our favourites. Which ones are yours?
Wawungonk – original name given to Wawa Lake translates to "place of clear water" or "hills covered in clear snow"
Michipicoten – "place of high bluffs"
Mijinemungshing Lake – "place where the loons gather to feed"
Big Lakes, Big Memories
Welcome to The Municipality of Wawa, One of Ontario's Premier Four Seasons Destinations.