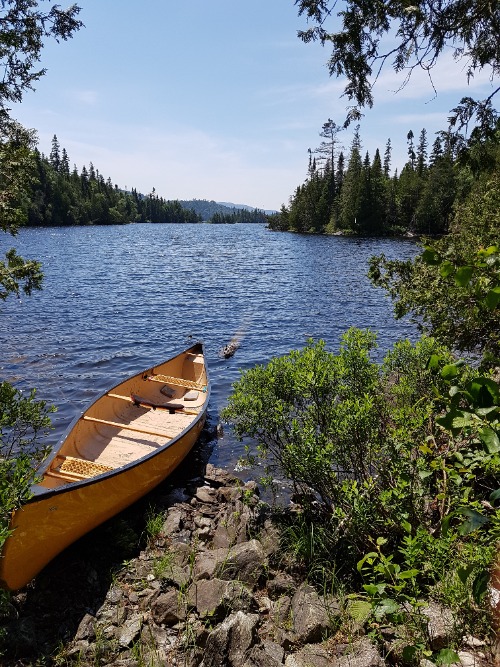 What better way to explore Wawa's surrounding wilds than by canoe or kayak. The Anishinaabe people used canoes long before the first explorers paddled into the Northern Wilderness. Since that time, much of the land remains as it was and the lightweight canoes, and now kayaks makes as much sense now, as it always has.
The diversity of Wawa's waterways leaves many choices open to the paddlers. Within Lake Superior Provincial Park alone, are eight established canoe routes that range from leisurely day trips to extended wilderness excursions. Detailed descriptions of the routes as well as information on fluctuating water levels, which are essential for the navigation of certain rivers are available at the Lake Superior Provincial Park visitor centre located at the Agawa Bay campground.
Lake Superior Provincial Park Canoe Routes
There is an abundance of challenging waters for the experienced paddler. Lake Superior Provincial Park's Sand river route runs through numerous rapids, and has 29 portages and take at least 3 days to complete. Many established canoe routes in the area are not maintained and boast true wilderness rivers that tumble over the ancient mountains of the Canadian Shield.
Located on the Northern corner of Lake Superior, Wawa is the gateway to one of the most remote sections of coastline on the lake. Wawa's location between Lake Superior Provincial Park and Pukaskwa National Park ensure that most of the coastline is preserved for the pleasure of the wilderness traveller.
Suitable for the experienced and novice paddlers alike, help and guidance from Naturally Superior Adventures can help anyone wanting to recognize the surging beauty and respect of the Great Lake. Contact Naturally Superior Adventures for detailed descriptions on canoe or sea kayak trips, or instructions offered.
Follow the path of the paddle and open the door to nature's world of leisure, challenge and adventure.
Photo Gallery: Paddling will appear here on the public site.
Big Lakes, Big Memories
Welcome to The Municipality of Wawa, One of Ontario's Premier Four Seasons Destinations.