Vulnerable Persons Registry
The Vulnerable Persons Registry (VPR) is a free, voluntary and confidential service aimed at improving the safety of residents living at home who would be at greater risk during emergencies.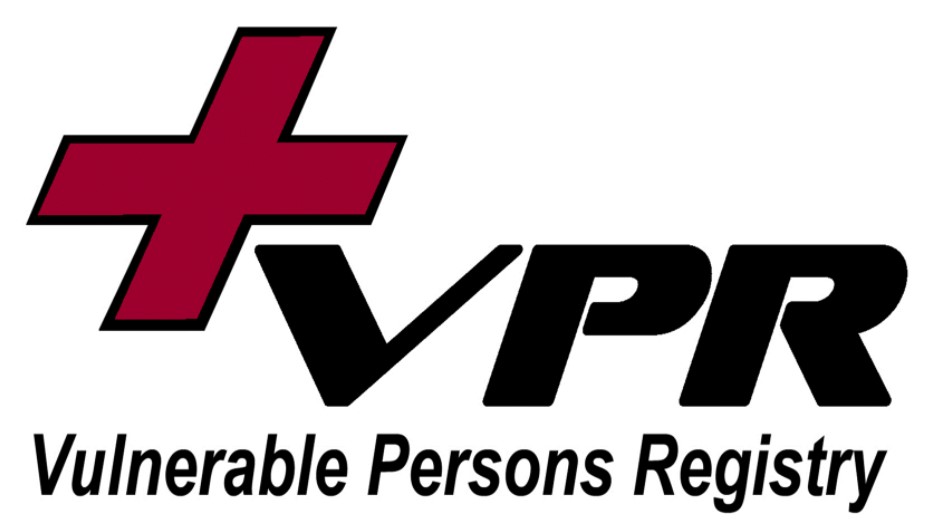 The VPR improves safety by providing key information to emergency response teams to help them be more aware when addressing large scale emergencies.
The VPR is active in some municipalities in the Algoma and Manitoulin-Sudbury Districts, as part of the Huron North Shore area.
How the VPR Started
Lewis was born and raised in Sault Ste. Marie, ON. He was not only an outdoorsman with a passion for hiking, canoeing, hunting and fishing but also an exceptional athlete. He loved playing hockey and soccer but his personal favorite was football. At six feet, 200 pounds, he had the size and ability to do all of these activities.
In May 2001, Lewis had just finished his first year at Sir Wilfred Laurier University and was looking forward to a job that allowed him to work outdoors. He had accepted a summer job as a general labourer for a contractor clearing brush under electrical distribution lines.
On his second day of work, Lewis' co-worker cut a tree that caused a power line to fall; shocking Lewis with 7,200 volts of electricity three times. This resulted in Lewis having 65% of his body damaged by burns and three amputations including his legs, right arm and shoulder, placing him in a wheelchair. As a result of the many skin grafts, his body needed air-conditioning because he was unable to control his body temperature.
Lewis went through months of physical and emotional agony but eventually came to accept his altered life and new body. After recovering from critical care and overcoming extensive rehabilitation, Lewis moved into his own apartment in Southern Ontario less than a year after his injuries.
Lewis' determination to move forward with his life was a direct result of him overcoming what he thought would be the worst that life could throw at him.
Unfortunately for Lewis, on August 14, 2003, Ontario experienced one of the largest blackouts in North America's history. The power was out for 22 hours in the Southern Ontario area where Lewis lived, which meant no air-conditioning. Lewis could not live without air-conditioning. Outside temperatures exceeded 32 degrees and his West-facing apartment would have been even hotter. His portable phones were useless in a power outage, his family was later to learn. He had endured smaller outages before and the power would always come back on within a few hours - this time it didn't.
His personal care worker left for the day and didn't check back until 2:30 p.m. the next day. His family tried frantically to reach him by phone, but no one locally checked on him.
Lewis died sometime early in the morning of August 15, 2003, before the power was restored to his building, at the age of 21.
"If you are reading this, chances are you are considering registering yourself or someone you love. Don't hesitate when it comes to your own safety and possibly your own life." - VPR Coordinator
Who Can Register
Any persons living within the VPR jurisdiction (see map) who has severe difficulty with any of the following:
• Mobility, vision or hearing.
• Developmental/ Intellectual, cognitive, or mental health.
Reserve living at home who requires:
• Electricity for life-sustaining equipment such as life support, oxygen, dialysis, etc.
You are not eligible if:
You are receiving 24-hour support from a caregiver or home care aide (exceptions may apply).
You are receiving care or assistance from a long-term care home or supportive housing facility.
You are under the age of 18 and receive parent/guardian support (exceptions may apply).
Children with intensive needs or children that require electricity for life-sustaining equipment can be considered for eligibility.
How to register
By-Mail
Print the registration form and mail the completed form to the address provided below and to the VPR's attention:
Sault Ste. Marie
99 Foster Drive
Sault Ste. Marie, ON P6A 5X6
Tel: 705-942-7927
Other Inquiry
For any other inquiry, please contact a VPR Coordinator associated to your region.
For all general questions regarding the VPR, please contact:
Amanda Sheppard, VPR Coordinator
Tel: 1-705-942-7927 Ex: 3041
Toll Free: 1-866-353-0697
Email: info@soovpr.com
For more information, you can visit the VPR page or visit the frequently asked question page.
Big Lakes, Big Memories
Welcome to The Municipality of Wawa, One of Ontario's Premier Four Seasons Destinations.