Surplus Property for Sale
THE CORPORATION OF THE MUNICIPALITY OF WAWA
SURPLUS PROPERTY FOR SALE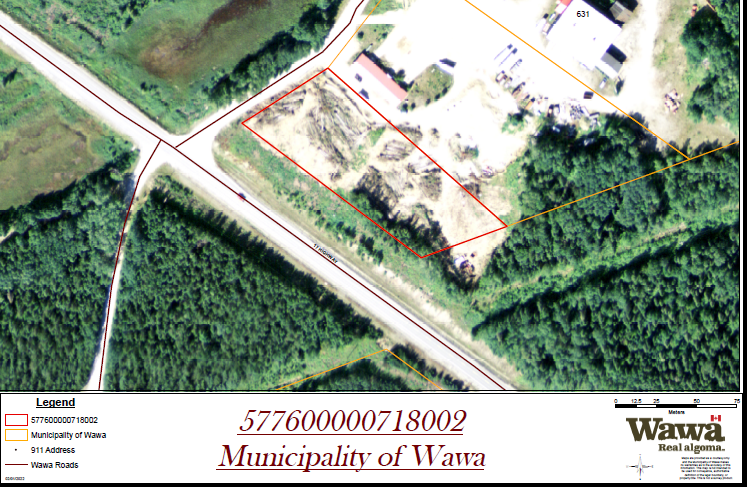 Assessment Roll No. 57 76 000 007 18002 0000
PIN: 31170-0152 (LT)
Legal Description: Parcel 12519 Section AWS SRO; Location CL10545 Lendrum designated Part 1 Plan 1R9738 S/T, if enforceable, execution No. 99-000593; Michipicoten
Size: 2.03 Acres, Frontage 216 Feet
Zoning: RU – Rural
Minimum Tender Amount: $ 20,000.00
The subject property is being sold on an "as is" and "where is" basis. The above information given is considered to be basic approximate information only and is not intended to fully describe the subject property. Any interested party should satisfy themselves as to the suitability of the property for their purposes. It is the responsibility of the Purchaser to do its own due diligence in this regard. The Municipality of Wawa provides no representation or warranties of any kind whatsoever.
The highest offer or any offer may not necessarily be accepted. The Municipality of Wawa reserves the right to dispose of this land as it may see fit and further, the Municipality reserves the right to negotiate with a proponent on any offer received. Any transactions negotiated are subject to final approval of Council.
The Municipality has no obligation to provide vacant possession to the successful purchaser.
All bids must be received at the Municipal Office by 3:00 p.m., June 15, 2022
Public Opening to be held at 3:15 p.m., Wednesday, June 15, 2022
at the Municipal Council Chambers, 40 Broadway Ave., Wawa, ON
A "Purchase of Municipal Surplus Lands – Bid/Offer Form" must be completed, accompanied by a 20% deposit and placed in a sealed envelope. Please ensure the Assessment Roll number which the bid pertains to is clearly marked on the front of the sealed envelope and returned to:
The Corporation of the Municipality of Wawa
40 Broadway Ave, P.O. Box 500
Wawa, ON, P0S 1K0
Attention: Manuela Batovanja