Emergency Preparedness Week 2022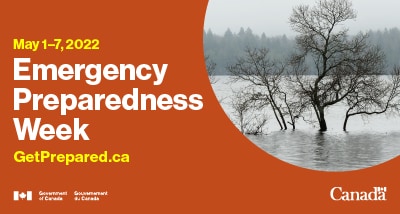 Emergency Preparedness Week is a national awareness initiative that has taken place annually since 1996. It is a collaborative event undertaken by provincial and territorial emergency management organizations supporting activities at the local level, in concert with Public Safety Canada and partners. EP Week encourages Canadians to take three simple steps to become better prepared to face a range of emergencies:
Know the risks
Make a plan
Get an emergency kit
Tips and Ideas to Promote EP Week
This year, explore ways to promote EP Week while maintaining physical distance.
Test emergency plans through an exercise or talk about what you would do if there were a power outage, flood, or other emergency, or if you had to evacuate.
Build an emergency kit and complete a family emergency plan online at getprepared.ca and review it with your family.
For more information on Emergency Preparedness, visit https://www.getprepared.gc.ca/cnt/rsrcs/ep-wk/index-en.aspx