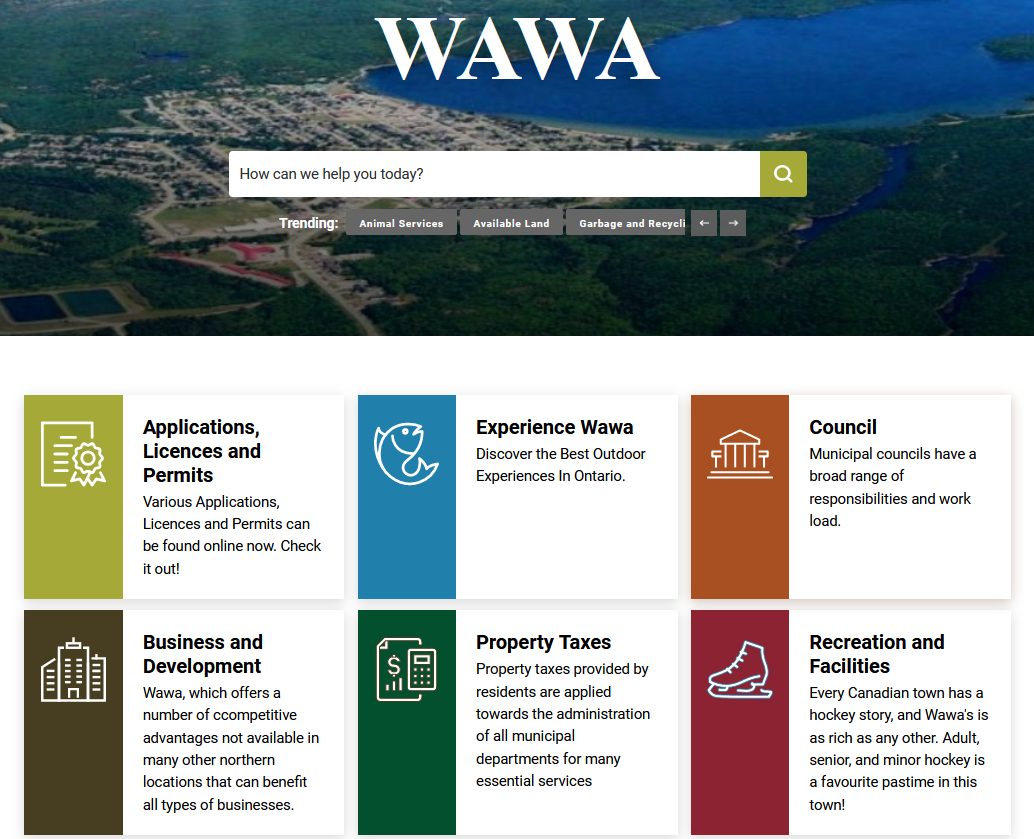 Posted on Thursday, April 08, 2021 04:32 PM
MEDIA RELEASE – April 8, 2021
New Wawa Municipal Website Launched
Wawa, ON – Mayor and Council are pleased to announce the launch of the newly designed and user-friendly municipal website at www.wawa.cc.
"We are excited to unveil our new website which is easier to use and provides much more information than the previous website." said Mayor Ron Rody. "Our old websites were taken down by hackers. Due to the tremendous efforts of our staff including Sue Lord and Anders Dereski, a new and...
Posted on Wednesday, April 07, 2021 04:31 PM
News Release
Ontario Enacts Provincial Emergency and Stay-at-Home Order
April 7, 2021
Additional measures needed to protect health system capacity and save lives during third wave of COVID-19
TORONTO — The Ontario government, in consultation with the Chief Medical Officer of Health and other health experts, is immediately declaring a third provincial emergency under s 7.0.1 (1) of the Emergency Management and Civil Protection Act (EMPCA). These measures are being taken...
Posted on Wednesday, April 07, 2021 03:43 PM
Public should exercise caution as bears come out of hibernation.
The Ministry of Natural Resources and Forestry and the Ontario Provincial Police (OPP) remind you to exercise caution as black bears begin to come out of hibernation this spring.
Bears waking up from hibernation are faced with a scarcity of natural food sources, leading them to look for food in garbage cans and bird feeders.
For more information, please visit the Ontario Bear Wise website.
Posted on Tuesday, April 06, 2021 03:39 PM
Just a reminder to all residents within the Municipality of Wawa that all open air burning conducted between April 1st – October 31st requires a permit.
You may get your open air burning application by contacting the Fire Chief by email or 705-856-2244 Ext. 228, Monday through Friday between the hours of 8:30 am and 4:30 pm or the application may be downloaded here.

All fees must be accompanied with the application. An on-site inspection is required before a permit will be issued.

E-transfers...
Posted on Tuesday, April 06, 2021 10:20 AM
Welcome! We hope you find our new website helpful and easier to navigate. It's now as easy to use on your smartphone as your desktop. Take a tour and please tell us what you think.
Big Lakes, Big Memories
Welcome to The Municipality of Wawa, One of Ontario's Premier Four Seasons Destinations.